It's tempting to think that the entire real estate market in New Orleans is in hyperdrive, but that's truly not the case.
When we reviewed year over year data for August, we found that the increases in median sold prices weren't nearly as drastic as you'd think given some of the bidding wars we've been witnessing in the affordable housing market.
Median sold price increases of 4-5% are normal, so we don't see anything in the overall market that gives us pause right now.
What about affordable inventory?
The number of available properties in that coveted under $300,000 price range puts this segment of the market square in a seller's favor. Supplies of less than 5-6 months mean that sellers can be a little more aggressive in their pricing, negotiate a little harder, and generally have their pick of offers because they know there's not a lot of competition. It gets even more competitive when you drop into the under $200,000 market.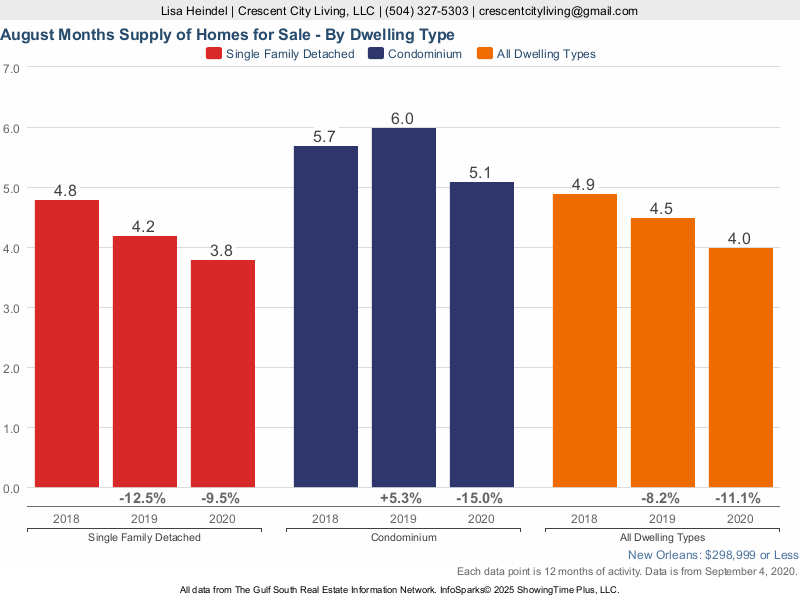 If prices are up and inventory is down, what's good news for buyers?
The great news is that interest rates are very low right now.
With a 20% down payment and a 2.95% rate, the monthly principal + interest payment on a $250,000 home is $1,085 (of course, taxes and insurance will need to be added to this payment).
If rates were to increase by 1%, that payment would increase to $1,197.
A 2% jump in rates would result in a monthly payment of $1,315. All for the very same house.
We know it's a cliche, but now really is a good time to buy if that fits your plan. 
---
Need help buying or selling in the New Orleans area? Call us today at 504-327-5303.